Description

I focused for some time on creating a new free program for .NET Framework 2.0 PCs. TagID is a free application that helps you edit the ID3 tags of your .MP3 files. It has an advanced, but also quite easy, user interface (which can be customized) and helps you to easily edit the ID3v1 and ID3v2 tags of your .MP3 files and also view a MPEG's file info. The program's source is also available for Visual Studio 2005. TagID is not yet fully developped.
Some of its function are:
Basic and advanced editing of ID3v1.1 and ID3v2.3 tags.
Viewing a file's MPEG info.
Synchronizing the two versions of ID3 tags (copying info between the tags).
Versatile and advanced options (allowing you to organize and automate the way you edit and view ID3v2 frames).
An ID3v2 frame browser showing info about every recognisable frame.
Screenshots: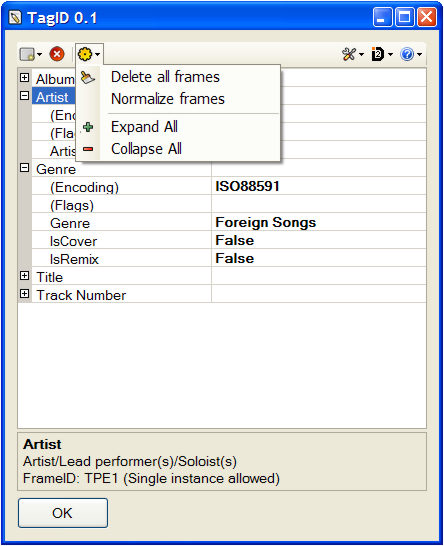 Requirements:
A PC with Microsoft .NET Framework 2.0 installed on it. If you haven't installed it, run Windows Update to install it or download it from Microsoft's website.
Download
You can download the setup here and the source here. Be sure to read the ReadMe and the license (GNU GPL) of the program.